Welcome to The Vacuum House in Swansea Massachusetts.
The Vacuum House of Swansea always has a large selection of the world's best vacuum cleaners in stock. At The Vacuum House we have what you're looking for and if not we can order it at the best prices available. We repair all makes and models of Vacuum Cleaners.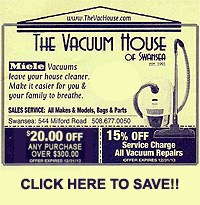 We are open Monday-Friday 9:30-5:30, and Saturday 9:30-1:00.